Services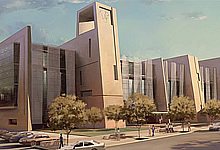 Architectural Design
Our staff of architects, designers, draftsmen, and support personnel provide full architectural design services. We are experienced at assisting our clients in site evaluation and selection if the project requires it. Design work typically begins by working with the project owner to develop a program and budget for the project. As the development of the design proceeds, cost estimates are continually updated. Whether for new construction or a renovation or addition, our approach to design is creative, collaborative, and proactive, as we meet present-day needs while helping the client plan for the long-range life of the building.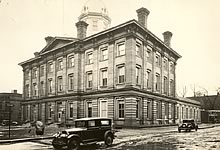 Historic Preservation
Working throughout New Mexico and in 26 other states, Conron & Woods has helped states and other municipalities, as well as private owners, to preserve and protect their historically significant structures. Preservation work involves a unique combination of science and sensitivity, and requires documentation, decision-making, working with local approval entities, designing for code compliance, and in many cases, planning for on-going contemporary use. Conron & Woods has worked over many years with the State of New Mexico to protect such buildings as the 400-year-old Palace of the Governors in downtown Santa Fe. The work has won a number of awards spanning several decades.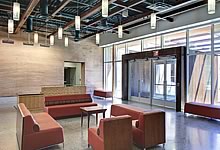 Interior Design
An integrated design process can take the owner from property acquisition through construction all the way to occupancy. Conron & Woods has extensive experience in both office and residential interior design, from equipping the modern office for business to designing custom furniture to outfit a traditional lodge building to selecting the fundamental interior finishes for all types of projects. The firm's preservation experience equips it for sensitive interior design for restoration projects. The firm's work with sustainable design and LEED certified projects promotes design choices for healthy interiors.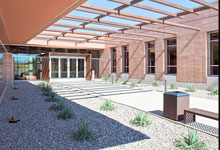 LEED
Leadership in Energy and Environmental Design (LEED ®) is an independent rating program for sustainably designed projects, used by many public owners around the United States. LEED certification or other comparable sustainable design programs require commitments from the owner, the architect, the interior designer, the contractor, and the building's occupants on several levels. The results are projects that are healthier, more energy-efficient, and more cost-effective to operate. Sensible choices in building systems and fixtures control owner costs while features such as natural light and low-emitting finishes are passive contributors to productivity and wellness. Conron & Woods finds that the lessons learned in LEED apply to all types of projects, public and private, commercial and residential.