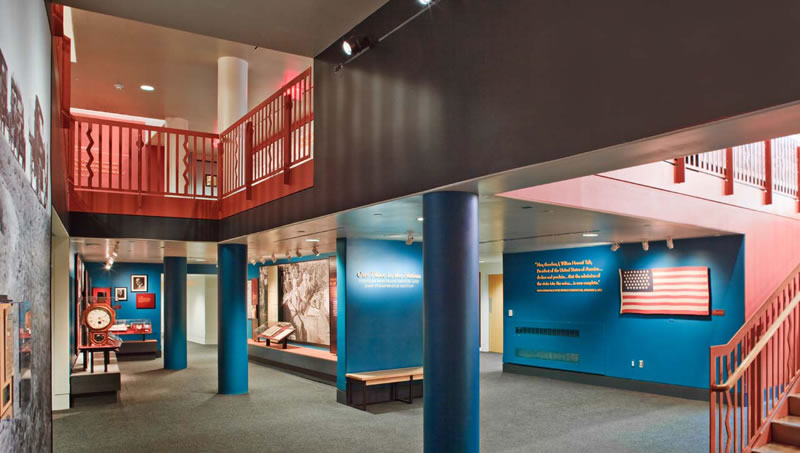 New Mexico History Museum
This multi-story 96,000 sf museum, designed by the collaborative team of Conron & Woods Architects, Saylor/Gregg, and NCA Architects, includes a variety of exhibit spaces, gathering spaces, classrooms, conservation lab area, staff offices and lounge, a cafe, and a fully equipped auditorium. Situated immediately behind the historic Palace of the Governors, the process from the initial design to ribbon cutting involved public participation, an evolving group of stakeholders, archeological investigation, and sensitive siting. The building incorporates one historic structure and its many windows connect museum visitors to the site and the surrounding significant buildings.

Exhibit areas provide for visiting exhibits as well as permanent displays. There is an open video space amidst the lower level exhibits as well as a high tech auditorium, suitable for viewing films or hosting panel discussions. The main lobby area, with its long window wall looking out on the adjacent Palace of the Governors, is a natural gathering space. It culminates at an atrium to the second floor and the monumental stair connecting all three levels. The second floor also offers a central gathering area, making the museum of place for present day community as well as the telling of history.

The siting, amidst a number of primary historical structures in downtown Santa Fe, has won a State preservation award. The Museum, which passed its 100,000 visitor mark in less than six months, was named the nation's top Western museum by True West Magazine.